With time, my collection of principles become like a collection of recipes for decision making.
Elasticsearch is based on an open source called Apache Lucene. However, the Lucene is a very complicated library that needs Java to apply. Elasticsearch, on the other hand, encapsulates the complexity with simple REST API.
Compared to other NoSQL databases, such as MongoDB, Cassandra, and Redis, etc. The following features make Elasticsearch standout.
Firstly, the ELK(elasticsearch, logstash, and kibana) stack combined data storing, data cleaning, visualization and together. You don't need to build up and maintain your own applications to do those works.
Secondly, the X-Pack plugin does have the monitoring, graphing as well as machine learning tools that help your dig more into your data.
Thirdly, you can quickly and easily search a large amount of text with wildcards or regular expression. Think about you want to find specific sentences or words in millions of books. I don't think other NoSQL database could provide an easy way to search on a user-friendly GUI to help you get the results in minutes. However, Kibana search bar, you can just right down a very simple query and get what you want immediately.
Fourthly, full-test search. Inerted index and inverted file
Although ELK stack has lots of good features, you still need to consider how to consume your data, what kind of data you have and how frequently you update your data or schema, while you are choosing a database. In my opinion, elasticsearch is more suitable for text mining.Here is a blog that introduce the use of elasticsearch in text mining: Text Classification made easy with Elasticsearch.
Elasticsearch infrastructure
As metioned in elasticsearch documnets: elasticsearch is a near real time search platform. There is a slight latency (one second by default) from the time you index a document until the time it becomes searchable. But sometimes when you have limitation of CPU, and JVM, you need to reduce the index refresh time, which may result in delay of data shipping. Overall, if you have enough capacity, we could see elasticsearh is Near Realtime.
Before we get into detail of elasticsearch, we need to understand couple of concepts, including the defination of cluster, node, index, type, document, shards and replicas.
Elasticsearch cluster shards
The below graph shows how does shard work in elasticsearch.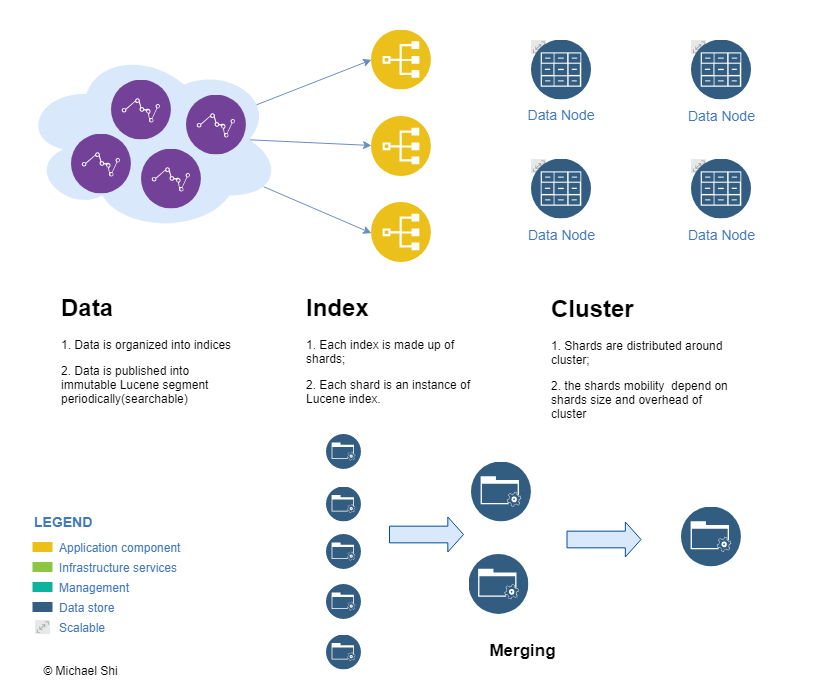 Normally, the data comes from filbeat and then pipe into logstash. Once logstash clean the data into analized format, it forwards data into elasticsearch. When logstash output data by using elasticsearch output plugin into elasticsearch, the data are orgnized by indices.
Elasticsearch cluster bulk request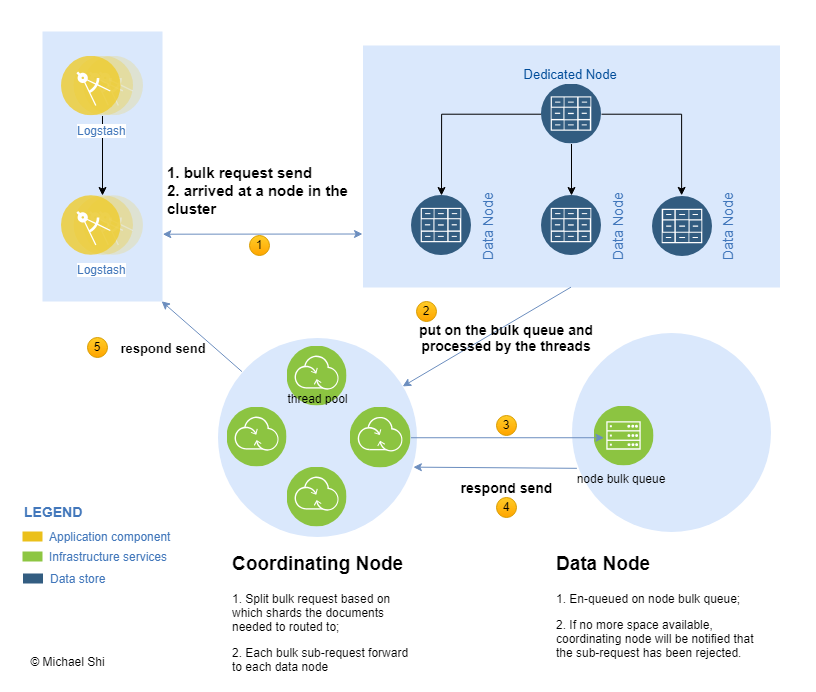 Elasticsearch cluster setup
Number of shards
Disk Space
CPU
Elasticsearch cluster useful APIs
1




2




3




4




5




curl -X GET 

'localhost:9200/_cat/indicies?v'


curl -X GET 

'localhost:9200/_cat/allocation?v'


curl -X GET 

'localhost:9200/_node/stats'


curl -X GET 

'localhost:9200/_cat/thread_pool'


curl -X GET 

'localhost:9200/_cat/thread_pool/generic?v&h=id,name,active,max,queue,sizerejected,completed'